It is morning and the sun is shining brightly through baby blankets of white clouds above. At only nine in the morning the sand burns the bottoms of my feet. My two littles and I bound down to the ocean, aware of everyone and no one at the same time. They jump, dive, splash, refresh. I stand tall, hands on hips, imagining what my form must look like. My black halter top-one piece-Marilyn Monroe of a swim suit hugs my hourglass. I look down at my person and see the lumps and bumps that weren't there before the summers of swelling with child.
Lifeguards run their drills. Flat stomachs and lean legs, muscles curve and athleticism is showcased in its purest form. They run further down the beach and all that we see are silhouettes of youth.
The kids are laughing. Seeing how long they can hold their breath and stay under water. The ocean water is so clear I can see their bodies as well as their shadows. Outlines against a sandy piece of earth. They shapeshift into one and then separate, following each other closely. Playing games of shark and seek. They are unaware of where they begin and end, their bodies bouncing off of each other and around and into and off of their mama.
The urge comes and overwhelms me. I hand off my sunglass to my son, instruct both children to stay where they are, and I start walking towards the endless sea. Step after step, trying to be graceful. True to the form in my head. With water up to my waist, I bend at the knees, throw my hands in the air, and force myself into a dive of what I imagine perfection. Hands hit first, I tuck my head under and feel the cool. The salt. The sea.
I rise. My hands wipe the salt from my face, tongue licks the sea from lips, and dive once more. To shore. To my children. Renewed, I rise as the silhouette of a woman who knows what her curves mean. Embracing with confidence the womanly body of a mother. The boldness that comes with knowledge and age and comfort in seasalt covered skin.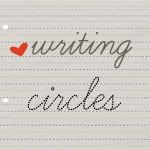 The above was shared in one of Bigger PIcture Blogs Writing Circles. It was revised with the gentle, helpful constructive criticism from those in the group... If you're interested in being a part of a writing circle, check out the next available session!
{also, the incredibly talented Alita of Alita JewelsTreasures is responsible for the beautiful makeover this blog has received... I love it!! Thank you Alita!! And thank you for working for knit goods!!}